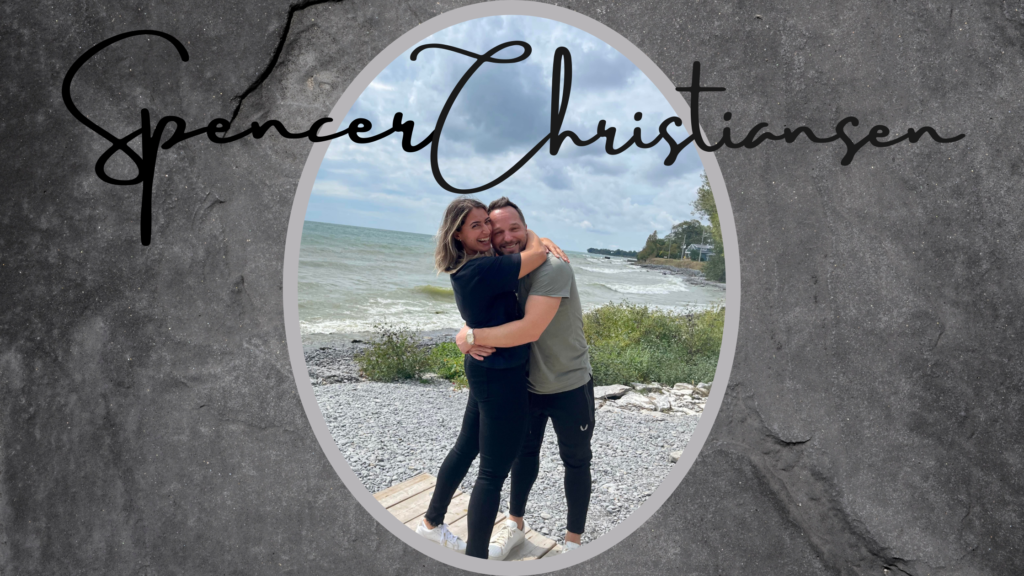 Spencer Christiansen is a 33 year old from Toronto Ontario, who's mother Lynda was a spontaneous case of XLH, which she then passed on to Spencer and his sister Brittany. Knowing her condition, Lynda was very diligent about having her children tested, and before the age of 2 Spencer had his diagnosis.

Like many others, Spencer felt isolated growing up with this disease, never knowing anyone beyond his family who had XLH. He grew up on conventional therapy with Phosphate and Calcitriol, taking the Phosphate tablets 4-6 times daily. At the age of 16, Spencer had his first osteotomy on his left femur, where they inserted a rod to correct the bowing. At 17, they did a tibial osteotomy using a spatial frame, then again at 19 on the opposite leg, each process taking the better part of a year to correct the issues. Doing his best to make the most of all his downtime, Spencer spent a lot of time with his guitar, which eventually allowed him to start a band and spend 2 years touring the country, offering him an experience of a lifetime.

In his early twenties, Spencer had convinced himself that XLH was behind him, with the surgeries having corrected his issues as much as medical science could, he felt like life would be generally normal from then on. He began focusing on his health and fitness, trying to eliminate the minor aches, pains, and chronic inflammation that the surgeries had left behind. He attended business school, then spent a few years working in investment banking in Toronto. Regardless of the focus he had on his health, more symptoms kept creeping back in to remind him that XLH was forever a part of him. Spencer found himself dealing with complicated dental surgeries on root canal failures, eventually leading to multiple teeth extractions, failed dental implants, and the beginning of pseudo-fractures developing in his right femur. On top of everything, a small lower back and hip injury that refused to heal, ended up requiring spinal surgery on his 32nd birthday.

Now 33 and having been on Crysvita for 2 years, Spencer has noticed an improvement in some of the challenging symptoms he's faced in recent years. The pain from the pseudo-fractures in his femur has improved, stiffness, pain and inflammation has noticeably decreased and he's felt a big boost to his energy levels. He was even able to go on a hiking trip to Patagonia this year which is something he would have really struggled with just 2 years ago. There is a renewed hope that with the help of Crysvita and his healthy lifestyle, his body can fight the degenerative effects of XLH as he continues to age with the disease.

"Given how rare XLH is (1 in 20-25,000), I  feel the level of education from doctors and specialists growing up contributed to the disconnect between the wide range of symptoms and health issues that XLH can throw at you. It's only recently, with joining the XLH Canada and Canadian XLH network among other XLH groups on Facebook, along with taking part in an informative XLH advisory panel, that I've been able to put a lot of the pieces together. These groups are also helping give me more people to relate and connect with, creating a real sense of community among people that share the same trials as myself. XLH affects many members of my family, and I'm grateful to see my mother along with my sister and nephew finally have access to Crysvita as well. It's my hope that everyone affected by XLH will soon have access to Crysvita to help them manage life with this disease. I have been looking to help progress research in XLH as much as possible, now taking part in a 10-year study in Ottawa at CHEO, as well as being fortunate enough to be selected to participate in the Yale study examining the effect of Crysvita on muscle function. My hope is that with finally having access to Crysvita, it will help me work through a lot of the symptoms I deal with, and the studies will help create a stronger case that this treatment is really needed by the entire XLH community.
I met my fiancé, Yazmin, in my late twenties who is incredibly loving, supportive and understanding of all of my XLH related challenges that I've faced over the years, starting with bringing me to get major oral surgery including bone grafts and two teeth extracted on our 5th date. We got engaged last year and are so excited to be planning our wedding in Italy next year. Given the X-linked nature of this disease and the certainty of me passing it on to any daughters I would have, we are also on a waitlist for gender selection IVF treatment as part of our family planning. It's amazing to think of all the ways that science has continually advanced and improved for the XLH community, from monumental improvements in corrective surgery techniques over the years, to treatments that finally treat the root cause, and gene technologies to help with family planning, I am really optimistic about the future for myself and the XLH community."