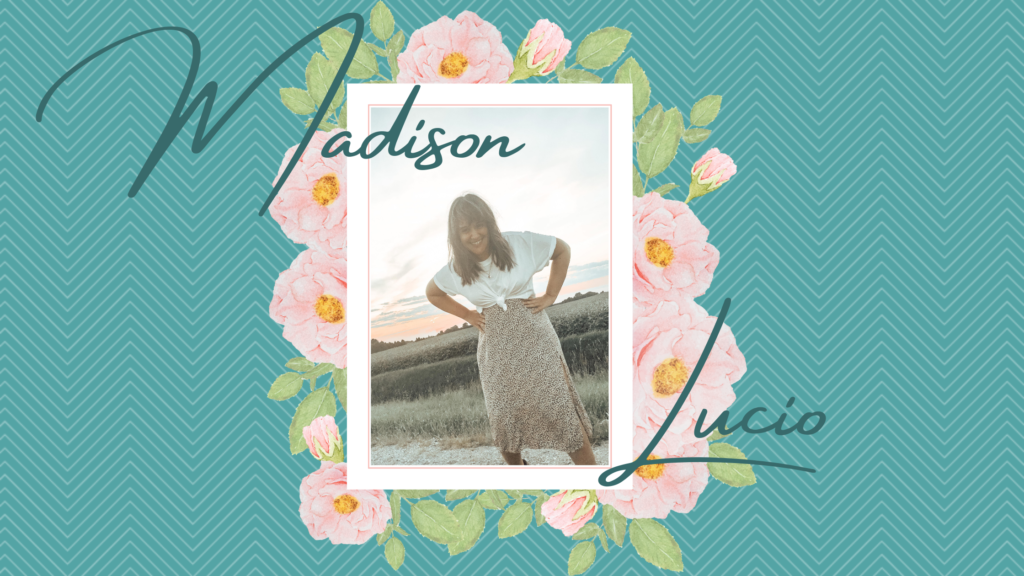 Madison Lucio (Maddie) is a 27 year old, raised in the small town of Blenheim, Ontario, with her younger sister and parents. Maddie now lives in London, Ontario, working as a French teacher, teaching Core French to grades 4-8. In her free time, she likes to shop, travel, spend time with loved ones, as well as read, and binge watch shows on Netflix.

Maddie was diagnosed with a spontaneous case of XLH at the age of 4, thanks to a dentist who noticed her dental x-rays looked abnormal. She was referred to the London Children's Hospital, where medical treatment with Phosphate and Rocaltrol began immediately, helping her avoid any corrective surgeries as a child. Over the years, she has endured many health issues such as Meniere's (hearing loss and vertigo), Chiari Malformation, and many dental abscesses causing 12 root canals. Due to the progressive nature of her disease Madison has dealt with many more issues as an adult, such as limited mobility, bone spurs and osteophytes along her joints. Maddie recently underwent surgery on her hips and had two surgical dislocations with femoral and acetabular Osteochondroplasty to remove osteophytes on her hip socket and femur to help with mobility, stature and range of motion. Madison has been off on health leave from work since September due to the surgery, working through the recovery process and physiotherapy, but intends to go back for the remainder of the school year in April. To help with the healing process, Madison is still receiving Compassionate Care from Ultragenyx to cover the cost of her Crysvita injections and has been since January 2020. As of today, Maddie has been denied coverage through her personal benefits, but hopefully this will change with increased proof of the positive impact of the drug on adults. While being on Crysvita Maddie has experienced much more energy, less general bone pain and has had no further dental issues.

XLH has affected Maddie's life as well as her family's life in many ways, and she's grateful to have the love and support from her parents and her sister who always keep her smiling, and have been essential in her care and recovery since surgery. With countless trips to the doctors and costs of mediations along the way, it's been challenging to say the least, especially when most of the doctors who have treated Maddie didn't know much about XLH or her struggles with it, putting the pressure on her parents to be advocates for her and do all the research on XLH to help manage her condition. Some of the biggest struggles in Maddie's life is keeping up with the physically fit member's of her family. Adventurous at heart, she's been able to do fun things like zip lining, whitewater rafting in the past, but has progressively gotten worse in her range of motion/flexibility as the years have gone by. Over the last 5 years she has started walking hunched over and has lost even more mobility, which has been hard for her and her family as she's now dealing with issues more common with elderly people. There is great hope that with the combination of Crysvita, her surgeries and physiotherapy Maddie will gain more mobility back and be able to continue her adventures. Her positive attitude helps guide her through every experience, and has been essential throughout her surgeries and recovery process, as she learns what her limitations are.
As Treasurer of the Canadian XLH Network, along with the other amazing board members, Madison is happy to be working towards a brighter future for herself and the XLH community. Maddie feels joining the XLH Canadian Support Group, and later the Canadian XLH Network has been extremely beneficial to her. "Through this group I have been able to talk through my different experiences and get the opinions of other people who have the disease. Even though we all have such different experiences with treatment, pain, and additional health problems related to XLH, we all share some commonalities and can support one another. Having a rare disease and being a spontaneous case I felt very isolated and alone growing up being "different", even though my family and friends did everything in their power to make me not feel that way. I had never met another person with XLH until going to the annual XLH meetup in Connecticut at the age of 24. Knowing there are people living in the same city as me who have been through some of the same things I'm going through and who are willing to talk and share with me has been such an incredible feeling. Being the person that someone younger can ask questions to or seek guidance from has also been a rewarding experience and something I wish I had had when I was a teenager or young adult. I think we are all trying to establish a sense of community and advocacy for ourselves and others with XLH, so that we can ensure quality of care and support across Canada. With better education for doctors and other healthcare professionals, we can make sure we are all receiving the best possible treatments and medications available, and create a better quality of life for us all".